SHARPENS DULL KNIVES IN SECONDS, SAFE, AND EASY TO USE!
Believe it or not, a dull knife is one of the most dangerous objects in your kitchen. When a blade isn't sharp enough to properly cut food, it can easily slip from your control, nicking your hands or fingers.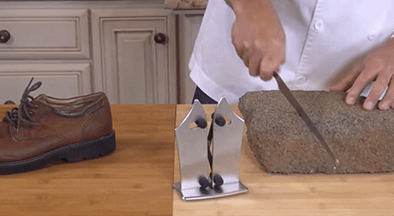 This Knife Sharpener only sharpens one way. They grind your knives, ultimately destroying the blade. And oftentimes you need to purchase a secondary knife sharpener for your serrated and beveled blades. It is the innovative knife sharpener that works on all types of knife blades! Two independent spring-action made of ultra-hard carbide that flexes and contours to any blade and any angle. In seconds, sharpen, hone, and polish your dull knife blades into razor-sharp cutting tools. When you use it, you can chop, slice, filet, and dice just like the first day you used your knives.
THIS PRODUCT'S QUALITY WON'T LET YOU DOWN!
With our professional knife sharpener kit, you don't have to be a chef to cook like one! It's strong, durable, and designed to last a lifetime. Made with high-quality materials, knives will work like new.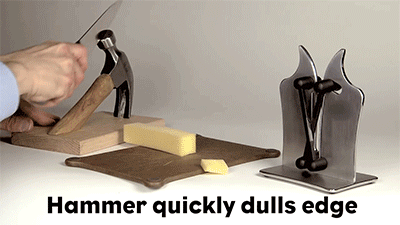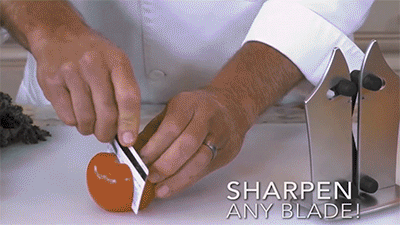 FEATURES:
The Bavarian Edge Knife Sharpener is made of ultra-tough Tungsten Carbide that flexes and contours to any blade or angle.
Comes with two independent spring action arms make razor sharp in seconds
Sharpens hones and polishes your old knives.
Gives your chef and butcher knives a makeover
With a contemporary design and stores easily in a cabinet or drawer.
How To Use:
SHIPPING TIMES
Once shipped, please allow 10-15 days for your order to arrive to the United States and 13-15 days to most international countries.(Standard Shipping)
➤ Click Here to view our full Shipping Policy
EASY RETURNS
Absolutely no regrets Our 100% Satisfaction Guarantee and 30 Day Return Policy guarantees you'll make a no-regret purchase when you buy.
Unhappy with your product? Contact Us:[email protected] We stand by our high quality products with award winning customer service. Your satisfaction is 100% guaranteed :-)
Returns are easy, Simply contact us and we'll process your return in a snap!
➤ Click Here to view our full Refunds & Returns Policy
*Please allow an extra 2-6 days due to Covid shipping restrictions

Drawstring Mesh Beach Shorts