Amazing Features:
◆ Artificial silk rose: The stems are easy to bend and cut, but the rose petals look almost real. They are soft and brightly colored. And never fade.
◆ Bright glass dome: 8 inches in height, 3.8 inches in diameter, and 0.2 inches in thickness. beautifully packaged and discreet.
◆Perfect Gift for Any Occasions:Enchanted rose is so passionate and romantic! It functions not only as a symbol of eternal love and desire but also as a gesture of appreciation & best wishes. The Rose Dome represents faith in infinite love, a special way of telling your beloveds "I Love you more as time goes by".
◆For the Passionate Ones & Romantics: Red Eternal Flower is not only as a symbol of forever love and appreciation but also is a symbol of best wishes.
◆The never fade enchanted rose glass dome represents Faith in Love Forever. - It is a special way of telling her/him: "Love you more as time goes by".
◆This enchanted rose is also great for home decor; it would look amazing anywhere you place it.
◆The glass dome for this eternal rose can easily be disassembled. There's a groove in the wooden base so you can easily trail wires without disturbing the dome.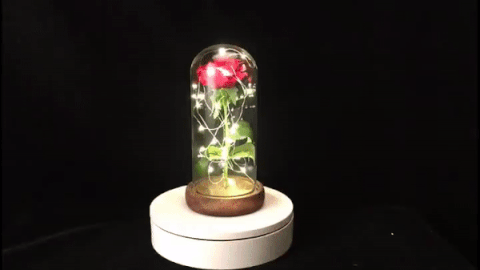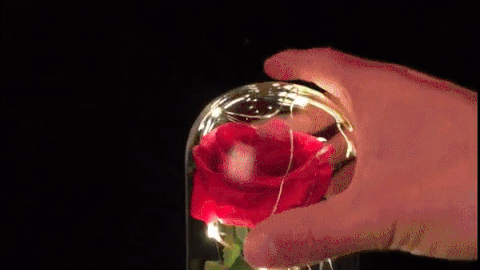 The forever rose has a wire in the stem so you can adjust it to your desired shape. The petals have veins and color variations that make them look very real, and they are coated in latex to give them that sort of rubbery rose petal feel.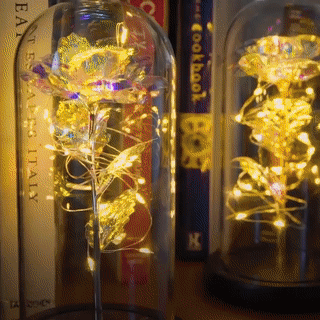 Specifications:
Net weight: 318 g / 0.7 lb
Size: 22 x 11.4 cm / 8.6 x 4.5 in
Power: 3 x AAA batteries (not included)
Package Included:
- 1x Red Rose Flower
- 1x Wood Base
- 1x Led Light Stripe
- 1x Glass dome
- 1x Protection box and sponge
Red Rose glass dome Include:
- A Red Silk Rose, A Glass Dome, A Wooden Base, A protection box and sponge.
- LED Stripe length: 90"
- No Installation needed , Comes assembled and ready to use. Grooved Wooden Base
- The equipment can be easily disassembled, perfect for recreating the content according to your own preferences
Warning:
①.Please do not touch the LED strip which is being used with your hands when they are wet.
②.The maximum temperature of the LED strip can reach 100°F,so please do not touch it.
③.The ignition point of silk flowers is more than 750°F and the temperature of the LED light will not cause the burning of silk flowers, so please do not worry.
④ If you have any questions about the product, please contact us:support@ceceliam.com
Order tracking URL address:
SFExpress:
YunExpress:

www.yuntrack.com
If you need to inquire about logistics information, you can check on these two websites
if you have any questions, you can contact customer service Email:support@ceceliam.com