A set of "Draw With Light" will help your child to reveal his or her creative potential without damaging home decoration!
The furniture and wallpaper in your apartment will not be "decorated" with patterns and hand-writing! Instead, your kid will take a special tablet with a light-accumulating coating, a flashlight marker and start drawing!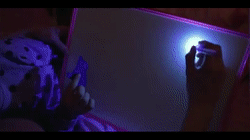 From the touch of the "brush" to the "canvas" there will be light lines, the brightness, and clarity that depends on the distance from the marker to the tablet and the angle of inclination. You can not erase from the work surface but you can draw on top since each new line will be brighter than the previous one.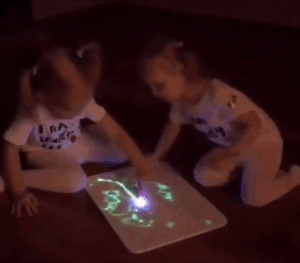 Completely the same picture disappears itself in 30-40 minutes. Besides, another end of the marker is a pen with a special ink that appears only under the light of the flashlight. It can not be drawn on a tablet – use plain paper for this!
SHIPPING TIMES
Once shipped, please allow 10-15 days for your order to arrive to the United States and 13-15 days to most international countries.(Standard Shipping)
➤ Click Here to view our full Shipping Policy
EASY RETURNS
Absolutely no regrets Our 100% Satisfaction Guarantee and 30 Day Return Policy guarantees you'll make a no-regret purchase when you buy.
Unhappy with your product? Contact Us:[email protected] We stand by our high quality products with award winning customer service. Your satisfaction is 100% guaranteed :-)
Returns are easy, Simply contact us and we'll process your return in a snap!
➤ Click Here to view our full Refunds & Returns Policy
*Please allow an extra 2-6 days due to Covid shipping restrictions

Drawstring Mesh Beach Shorts