This durable, comfortable and stylish steel toe shoes allow you to work confidently in tough environments
Whether you are outside or indoors, your feet are often at risk during work: vibrations, crushing, perforating, welding sparks, slipping, falling, improper handling... Protect your feet during this time is very important!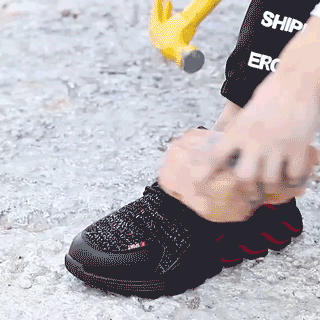 These Steel Toe Sneakers are reliable, durable and slip-resistant. Its High-tech fabric exterior will keep your feet breathable and dry when you working. This safety shoes features a steel toe for added protection, unit heel, and orthotic insoles for maximum comfort. The black rubber outsoles provide traction on any surface so you can work confidently and comfortably.
EUROPEAN STEEL TOE
Made from high density steel made to last to protect your toes from falling objects
WEAR RESISTANCE
Kelvar midsole add comfort and made to last for the long haul
SKID PROOF
Skid-proof rubber outsole, increases resistance to sliding or skidding, keep you safe at the slippery environment
PUNCTURE RESISTANCE
European standard steel midsole can resist 1100N puncture perfect for hazardous work around broken glass and sharp nails
QUICK PUT ON/OFF
Simple to wear quick and easily put on and off to help you save
time
SURPER BREATHABILITY
High-quality flying woven fabric, surper breathability
FLEXIBLE
Super flexible soft sole disperse your bodyweight evenly across feet
SURPER LIGHT WEIGHT
Surper lightweight prevent your feets from fatigue after long days on the job
SHIPPING TIMES
Once shipped, please allow 10-15 days for your order to arrive to the United States and 13-15 days to most international countries.(Standard Shipping)
➤ Click Here to view our full Shipping Policy
EASY RETURNS
Absolutely no regrets Our 100% Satisfaction Guarantee and 30 Day Return Policy guarantees you'll make a no-regret purchase when you buy.
Unhappy with your product? Contact Us:[email protected] We stand by our high quality products with award winning customer service. Your satisfaction is 100% guaranteed :-)
Returns are easy, Simply contact us and we'll process your return in a snap!
➤ Click Here to view our full Refunds & Returns Policy
*Please allow an extra 2-6 days due to Covid shipping restrictions

Drawstring Mesh Beach Shorts