Take a step into heaven and enjoy endless comfort for your feet. Experience walking on clouds all day, every day. With the best Soft Slippers
The Slippers are soft, thick, and comfortable relieving your foot and joint pain. Wear them all day and experience what walking on pillows feels like!
Simply the most versatile and comfortable slipper you'll ever wear. The Slippers are thick, comfortable, and relieve foot and joint pain with each step. Perfect for lounging, or on the go.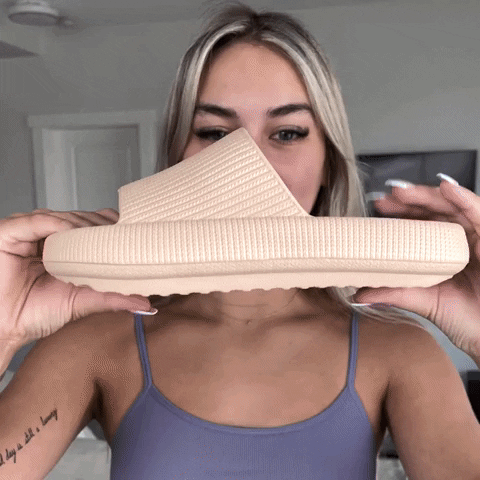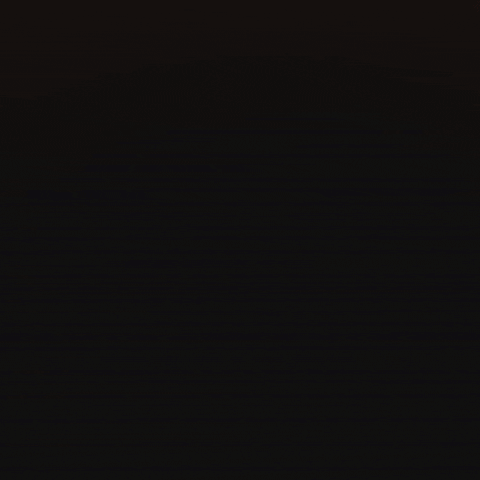 FOOT PAIN
Have you ever got home from a long day, taken off your shoes, and sighed in pain?
Imagine putting your foot into the Slippers, a therapeutic cushion slipper that compresses and relaxes your foot with each step.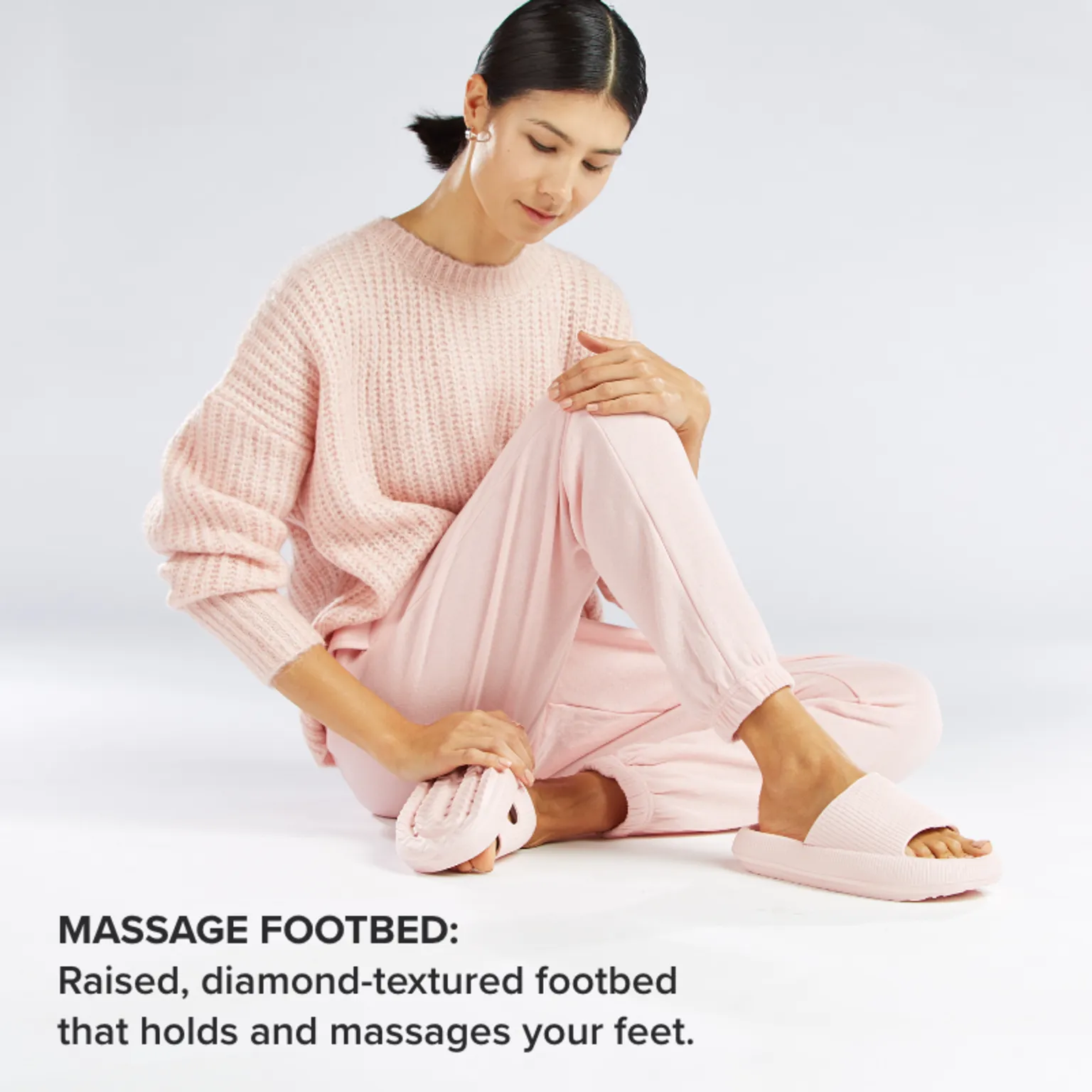 BAD JOINTS
The Slippers are ergonomically designed, the toe-to-tail is 15° angled balancing the pressure from your feet through to your hips. You'll notice instant relief for your sore feet, ankles, knees, and hips.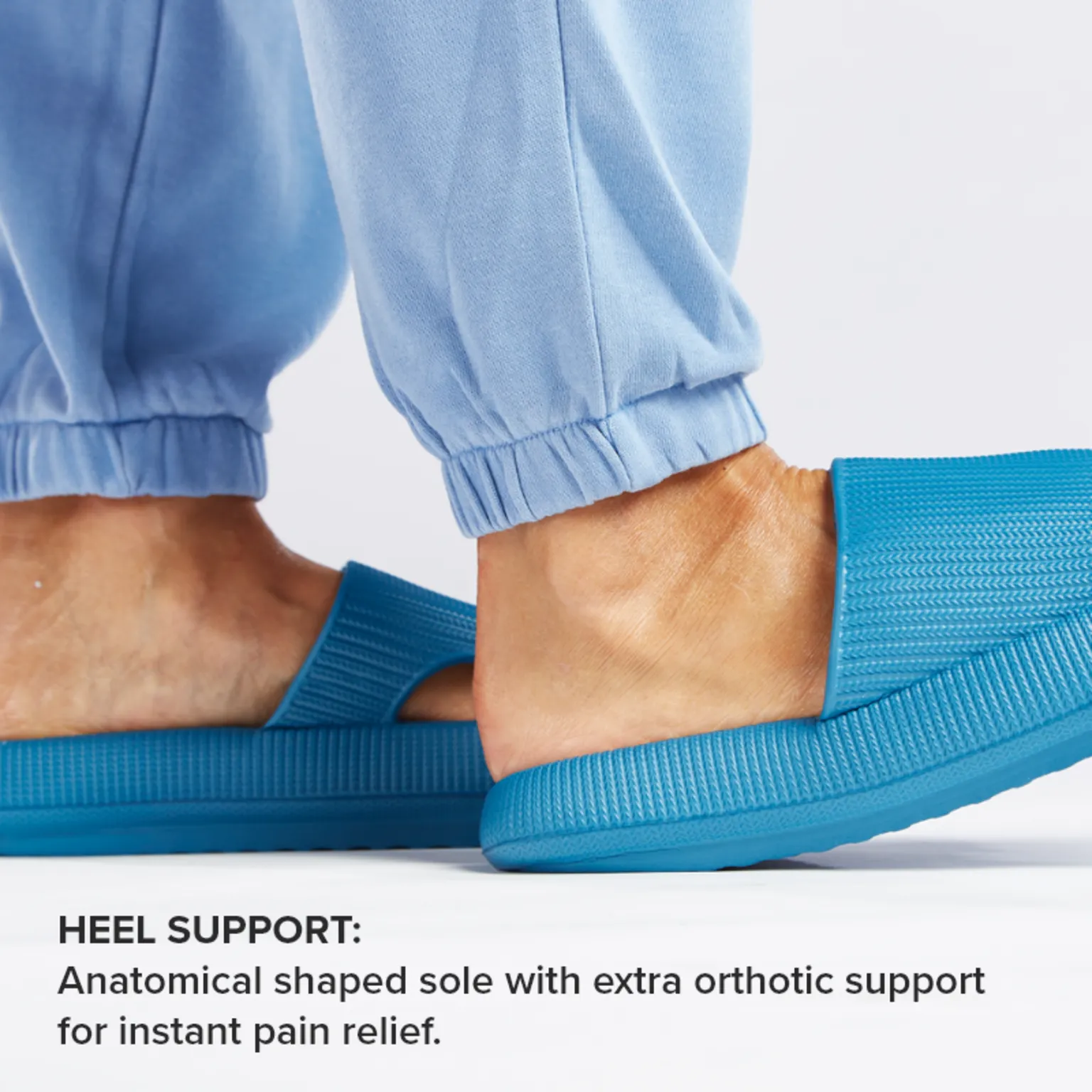 ALL DAY COMFORT
Built with 4.5cm thick, anti-chafe, anti-slip EVA compression material to support and comfort your feet at all times. The softness reduces the pressure of walking, get a pair for both outside and inside for all-day comfort.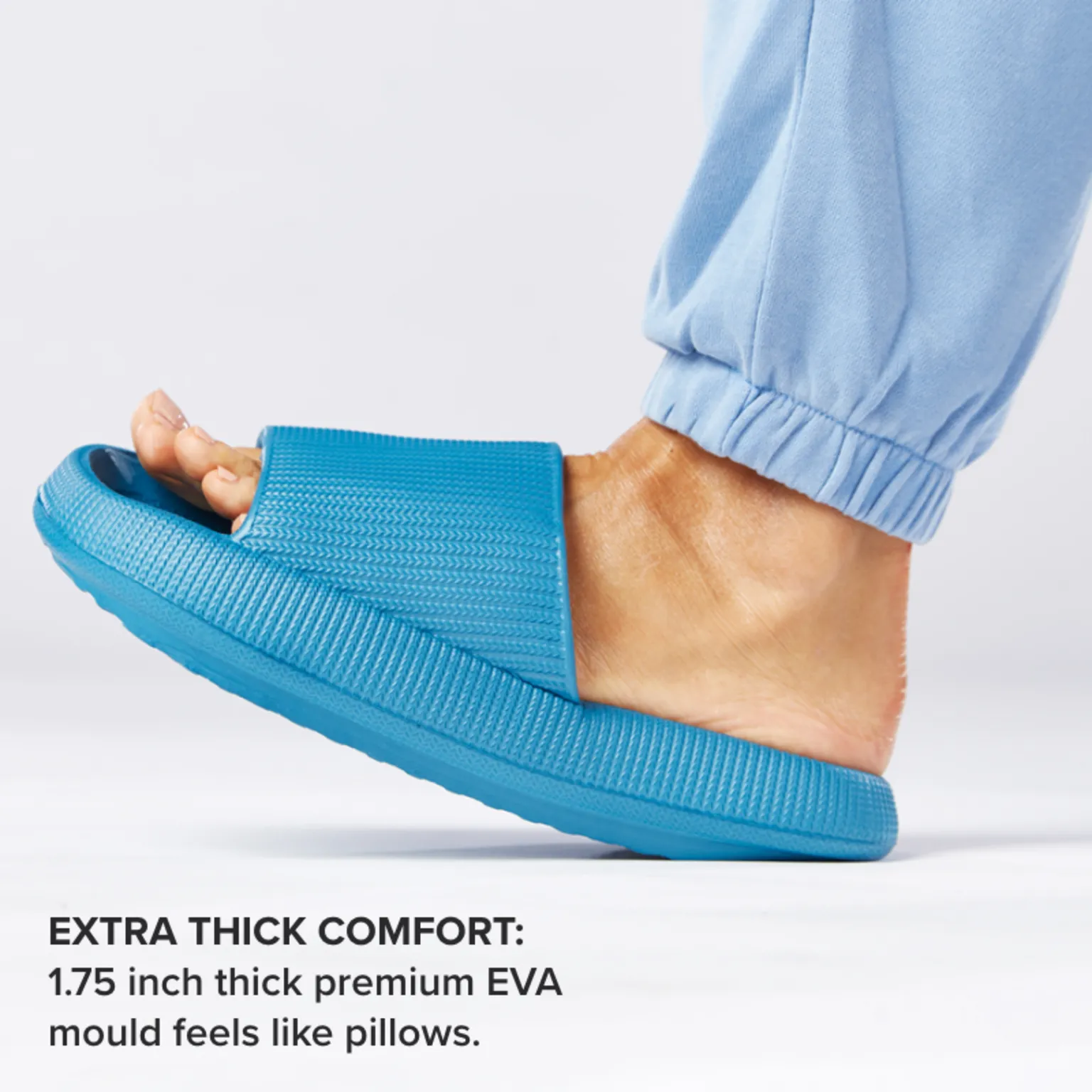 ANTI SLIP
The Slippers are designed with anti-slip textured material to prevent you from slipping and falling as well as keeping your foot from coming out. You also won't experience any chafing or blisters in the Slippers.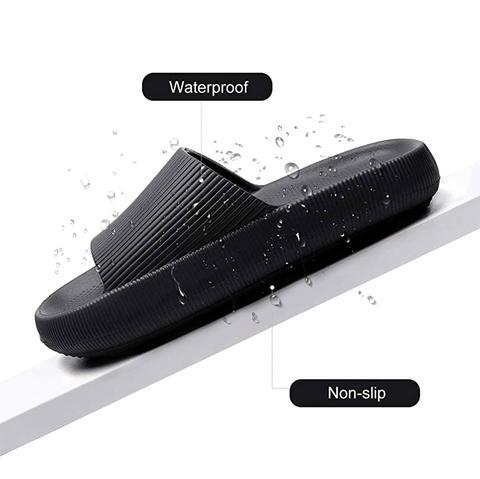 LIGHTWEIGHT & THICK
The Slippers have the thickest mid-sole on the market to give you pillow-like comfort with every step. They weigh less than your phone, you won't even notice they're on.
You can wear Slippers for up to 12 hours straight without hurting your foot.
Perfect for:
Inside the home
Pregnancy
Bathroom
Gardening
Beach
Walking the dog etc
Slip Resistant / Slip proven slippers
Slips, trips, and falls are the second most common type of fatal work injury and the third most common type of non-fatal injury according to the Centers for Disease Control and Prevention (CDC). Slippers are non-slip proven and designed to prevent wearers from slipping and falling on wet, oily, or otherwise slick surfaces.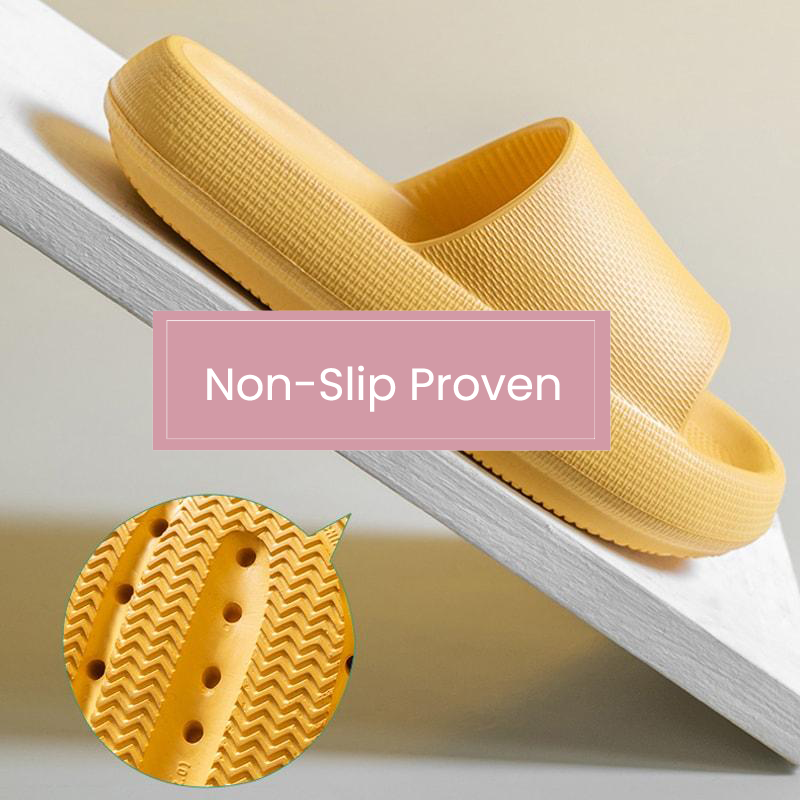 With a typical flat sole, liquids can get underneath, which leads to slips, trips, and falls. Unlike regular shoes, an anti-slip sole prevents water from getting trapped underneath. You can have peace of mind knowing that your footwear is designed to prevent injuries.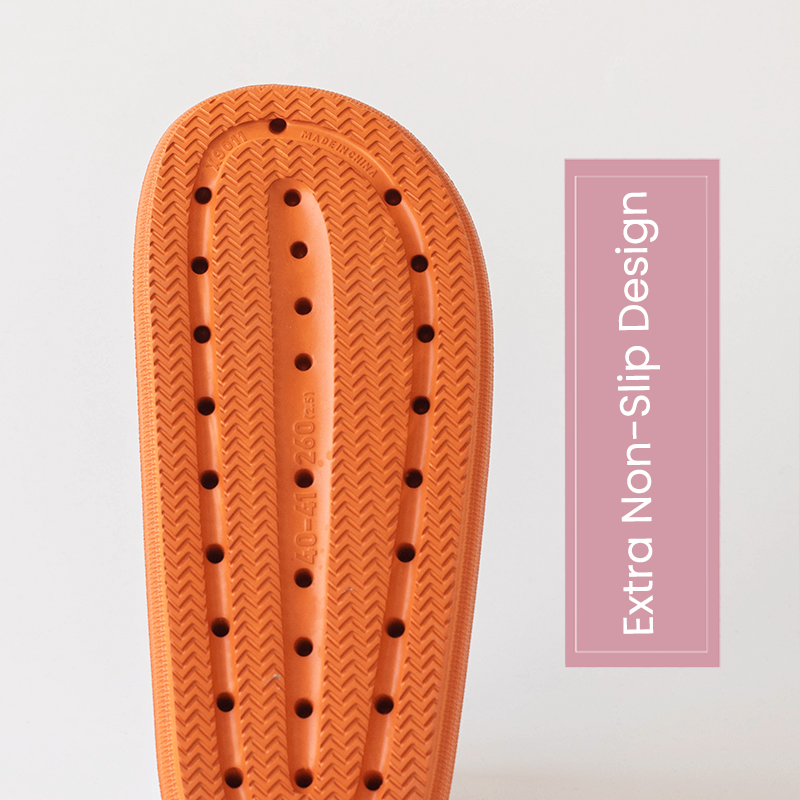 Concave-convex texture on the sole, non-slip and wear-resistant, to protect you and your family. The sole is solid, so there is no sound when walking.
Ergonomic Design
The toe to the tail is slightly upturned by 15°, the fitting angle balances the pressure, ergonomic design, and the thickened sole is soft & sturdy as needed to provide comfort to your feet.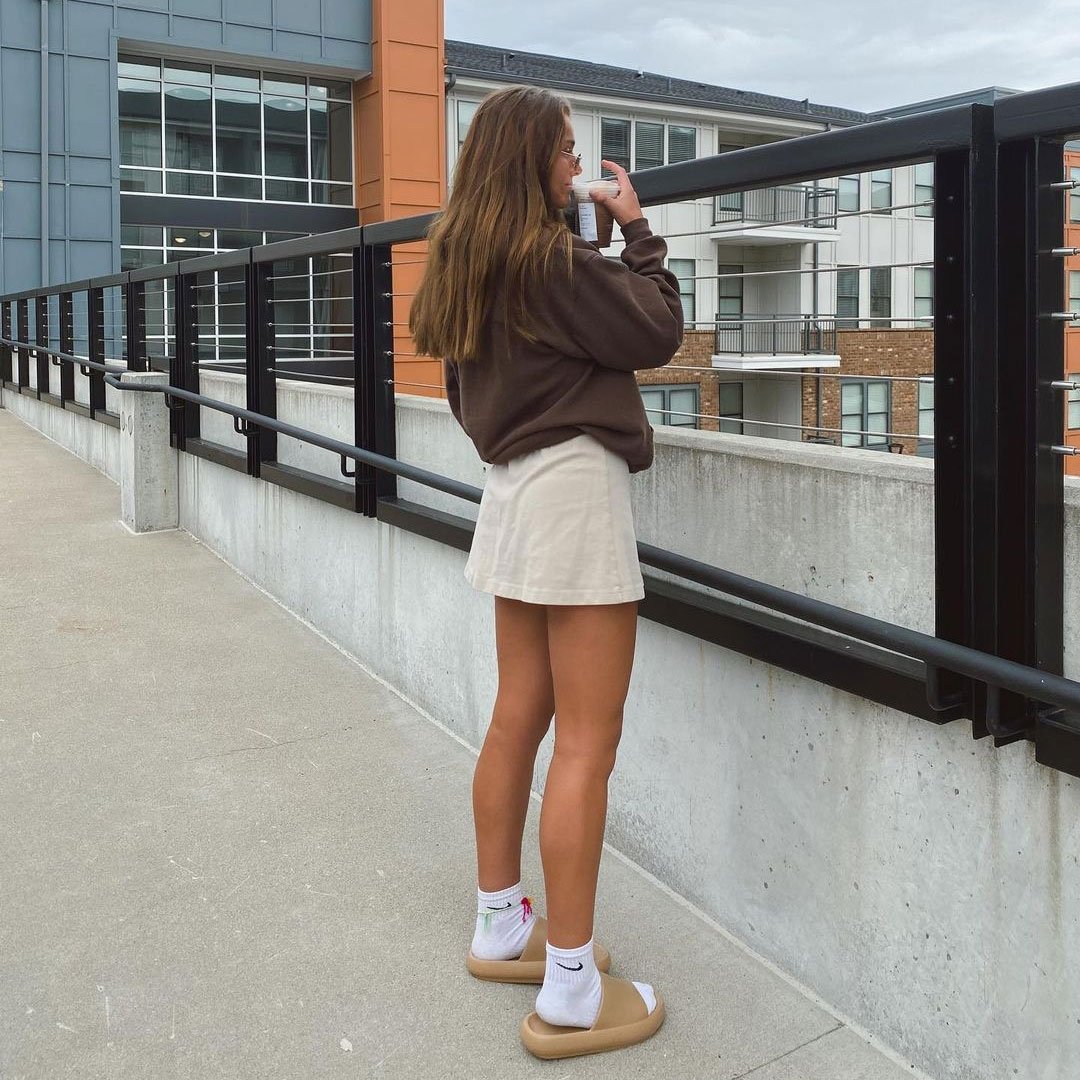 All-day comfort
Slippers are designed with a 1.6 inch / 4.5cm thick sole support that provides ultimate support. Whether you are wearing Slippers inside the home or outside, you can rely on all-day comfort no matter where your feet take you.
Lightweight
Slippers is designed with your feet in mind. They weigh less 152 g, less than than your iPhone! So light and comfy your feet will thank you.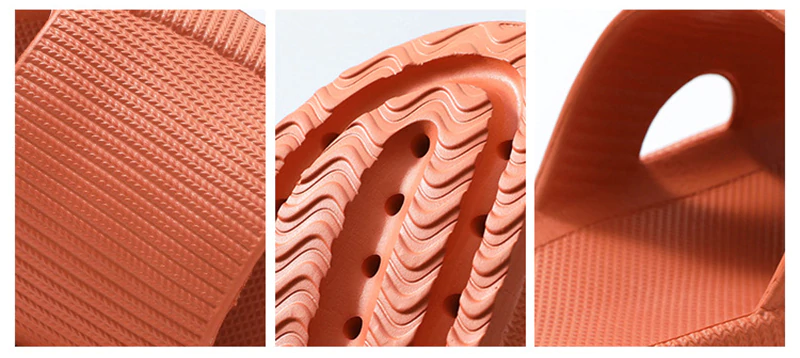 Advantages of Slippers Extremely Soft/Sturdy/Comfy Slippers

① Thickened sole
② Lightweight
③ Quick Drying
④ Non-Slip
⑤ Extremely Soft
⑥ Waterproof & Easy Washable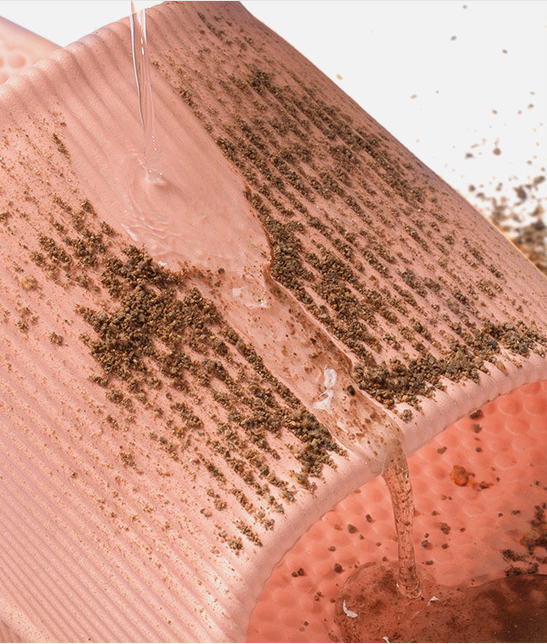 Specification:
Material: EVA
Ethylene Vinyl Acetate (EVA) is widely accepted as safe for use in shoes and teethers. EVA is a type of plastic that does not require a plasticizer and is BPA-free, so it is considered to be a safer alternative material. … The Center for Health, Environment, and Justice (CEHJ) recommends EVA as a safer PVC-free plastic alternative.
The calorific value of EVA is similar to that of oil. So you can say that EVA is rather environmentally friendly.
EVA material is not resistant to extremely high temperatures and can not be exposed to sunlight for a very long time.
SIZING