Achieve beautiful styles, effortlessly
Look your best without the stress
Style your hair effortlessly in multiple ways with the As Seen On TV Long Hair Sleep Styler. Made from marshmallow memory foam, this long hair styler styles your hair while you are having a peaceful night sleep. This styling device won't damage your hair and the hyper drying technology keeps your hair dry by wicking out the moisture, while curling or straightening your hair.Simply Set, Sleep, & Go!

Features:
SAVE TIME: Dry and style your hair while you sleep and save time during your morning routine!
STOP DAMAGING HAIR: Super-absorbent heat-free rollers can curl your hair without damaging it. If hair is thick, air dry to 80 percent dry before you wrap
SOFT MEMORY FOAM CORE: The Sleep Styler is as comfortable to sleep on as a pillow & Microfiber material holds 4-5x its weight in water and dries fast
LARGE SLEEP STYLER: If you have long, thick, or curly hair or human hair extensions, our LARGE roller set, which includes (8) Six Inch Rollers, is best for you! LARGE Rollers can also be used to naturally straighten hair
MINI SLEEP STYLER: If you have long, but fine hair that struggles to hold a curl or hair length between chin and shoulder blades then our MINI roller set, which includes (12) Three Inch Rollers, is best for you!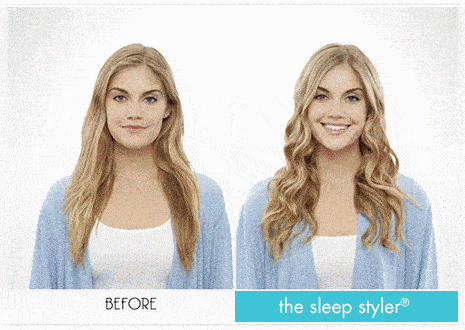 Comes in 2 Sizes
2 Sizes to choose from

Choose the Sleep Styler System based on your hair type.

12 Sleep Styler Rollers per pack

For short or fine hair, we recommend you try our Sleep Styler Mini. It's shorter size is more manageable for short or fine hair.

8 Sleep Styler Rollers per pack

For long, thick or curly hair, we recommend you try out Sleep Styler Large. The larger roller helps by giving more area to wrap your curls.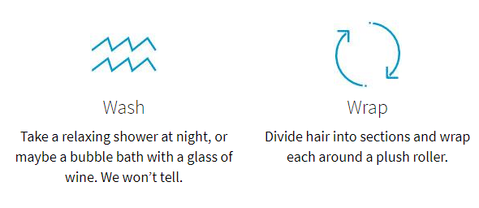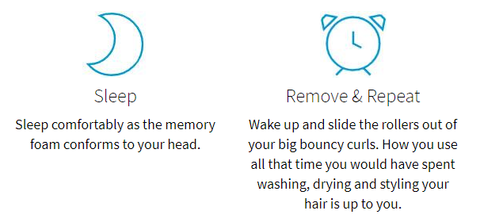 How to apply and remove the Sleep Styler Roller
Step 1 - 2

After washing your hair, towel dry to damp and apply favorite styling product. Then divide hair into sections, combing each one smooth.

Place the roller against your head with the strap at the top & facing forward.

Step 3 -4

While holding the strap out the way, wrap a section of hair around the roller. Roll hair away from your face. Note, the tighter you wrap, the tighter the curl.

Wrap the strap around the roller in the opposite direction as your hair & fasten the strap to the hook and loop strip.

Step 5 - 6

Now get your Beauty Sleep!

Wake up and slide the rollers out of your new bouncy curls.

Apply a light hairspray to hold the look longer.
SHIPPING TIMES
Once shipped, please allow 10-15 days for your order to arrive to the United States and 13-15 days to most international countries.(Standard Shipping)
➤ Click Here to view our full Shipping Policy
EASY RETURNS
Absolutely no regrets Our 100% Satisfaction Guarantee and 30 Day Return Policy guarantees you'll make a no-regret purchase when you buy.
Unhappy with your product? Contact Us:[email protected] We stand by our high quality products with award winning customer service. Your satisfaction is 100% guaranteed :-)
Returns are easy, Simply contact us and we'll process your return in a snap!
➤ Click Here to view our full Refunds & Returns Policy
*Please allow an extra 2-6 days due to Covid shipping restrictions

Drawstring Mesh Beach Shorts